This was a good weekend for shows, and I caught a bunch of acts - no unfamiliar faces, but four fine combos and a new permutation of another. I went to Zaphod's on the Friday to see Ladyhawk. I loved their first album and was keen to see what they were up to. The first act on stage was local trio Videotape, who I would describe as sometimes sounding like Bailter Space, at others like a jangly Jesus and Mary Chain. What their fuzzy pop doesn't sound like is the various members' previous band, As The Poets Affirm. As a bonus, vocalist Adam Saikaley was looking a bit like Jonathan Richman.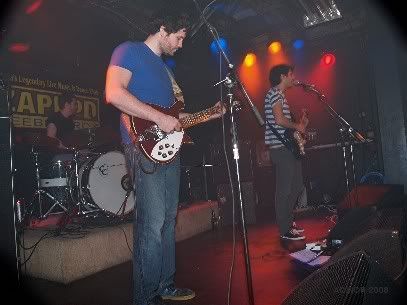 Videotape, Zaphod Beeblebrox, March 21, 2008
I had of course seen Immaculate Machine just a few weeks prior at End Hits performing with The Hi Lo Trons and Giant Hand. Once again they sound a few verses in Mandarin (and some others in French). They did sound a lot better on this occasion, which I'd attribute to Brooke being in better health and the techie stuff being done by Slo' Tom, and not a mixing board stashed in the closet. They threw in a cover of Final Fantasy's
This is the Dream of Wim and Regine
.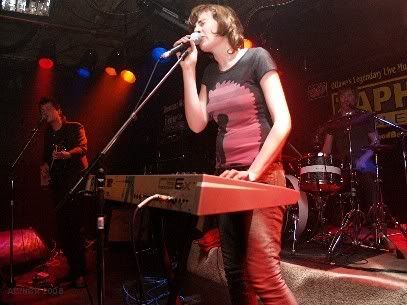 Immaculate Machine
, Zaphod Beeblebrox, March 21, 2008
Ladyhawk also put on a great show. Last time they were in town they opeded fopr Tapes'N'Tapes, who I didn't find as interesting. As before Duffy Driediger's plaintive vocals were a big part of the band's appeal. Unfortunately they passed on an encore.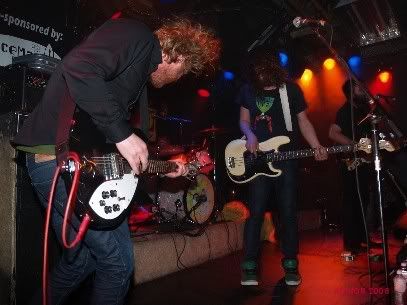 Ladyhawk
, Zaphod Beeblebrox, March 21, 2008
The next night I went to the Dominion to catch round 2 of The Double Pumpers' CD release show. Unfortunately we missed the opening act, Starvin' Hungry. Allegedly they put on an ace show. Judging from the previous occasions I've seen them I can well believe it. The next act up and running was C'mon, who put on an outstanding show - even better than their usual killer performance. Ian Blurton's vocals were really good, perhaps due to the generous dose of echo. There was a great big crowd at the Dom to rock along, Blurton's chiding about insufficient enthusiasm notwithstanding. By the time the show was over, Blurton had decided Ottawa was better than Kingston, perhaps because they had opened for Against Me there earlier in the week. "We are officially against Against Me," he joked earlier in the show.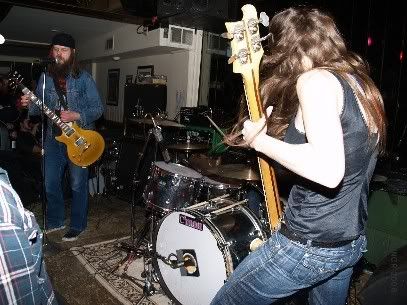 C'mon, The Dominion, March 22, 2008
I can't say that I'd want to follow C'mon on stage at any time, but the Double Pumpers did a good job living up to Dave Aardvark's "best band in Ottawa" introduction - particularly when you consider they were getting pretty drunk as the evening rolled on.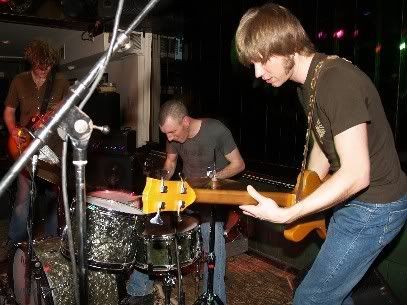 Double Pumpers, The Dominion, March 22, 2008
I picked up their new LP,
Old Gold
before heading out the door.