Howe Gelb has been a surprisingly frequent visitor to the capital. He's appeared at Bluesfest a few times. That's where
I first saw him
, on the Birdman Stage. I thought his performance then was a little ramshackle. During his visits here he became acquainted with Jim Bryson, met Steve Johnston - musical director of Ottawa gospel group the Voices of Praise - and eventually made plans to record
'Sno Angel
at Dave Draves' Little Bullhorn studio using the choir. It's my favourite solo album by him, and local music fans were fortunate enough to witness him play some of the songs with Bryson, Draves, slide guitarist Fred Guignion, the Voices and drummer Andy McDermott. He started things off with an easygoing solo turn ...
Mr. Gelb cocks an eyebrow at his song.
At the piano ...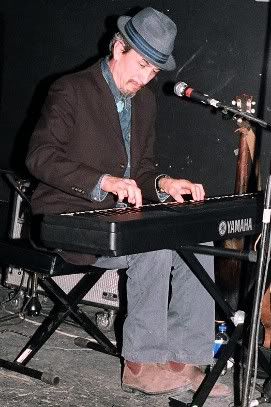 Howe and his shadow.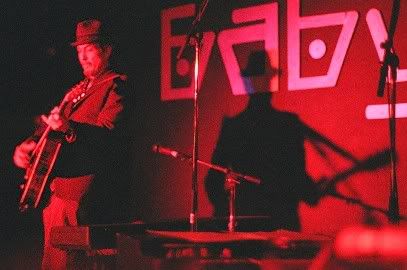 "This is where the
Arizona Amp and Alternator
tour turns into the
'Sno Angel
tour," said Gelb as the Voices of Praise, Jim, Fred, Dave and Andy joined him on stage.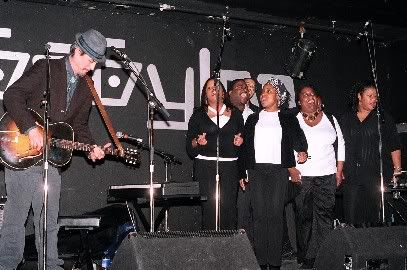 Voices of Praise keep it moving (
and larger
). Until you've heard a group like this you only think you've heard good harmony singing.
Fred and Dave.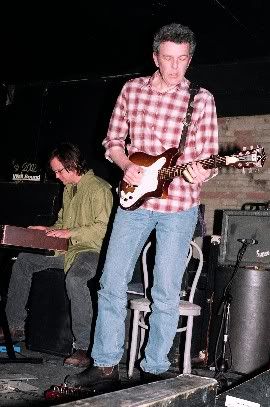 Jim and Andy - not as lively a picture as they deserve.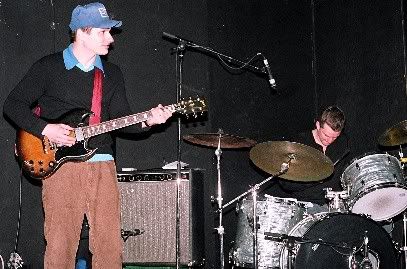 Sonic muck meets spirituals.
A marvelous and luminous performance.