Pernille
is not, contrary to what I expected, a band but a person. To be precise, a Danish songwriter who looks particularly fetching in a black blouse with a plunging neckline. A breathy singer songwriter, she was accompanied by Marie, who played organ, acoustic guitar when Pernille switched to a Fender Strat and added some squiggly sounds with a Roland synthesizer. She provided intros to her songs, a remarkable number of which seem to be about crazy boyfriends, or boyfriend-related craziness (some may say this describes 90% of popular music). It was a nice performance, marred only by some lunkheads in the audience who wouldn't shut up until she introduced one tune by saying "And this one is about, well, sex!"
The lovely and talented Ms. Gunvad.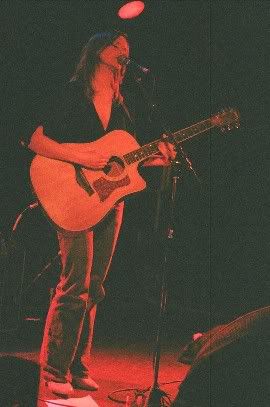 And Marie Hoejlund, who has her own band,
Marybell Katastrophy
.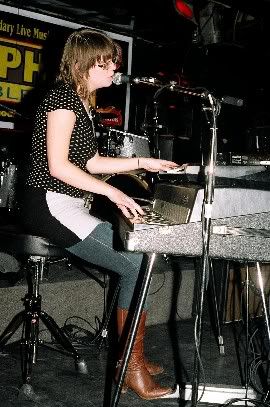 Marie on guitar - yes, she does have the best glasses ever.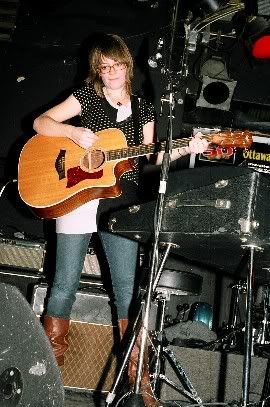 Pernille picked up her Fender and declared "And now let's rock!" Not exactly accurate, but they were a bit louder.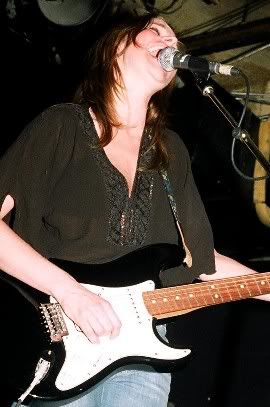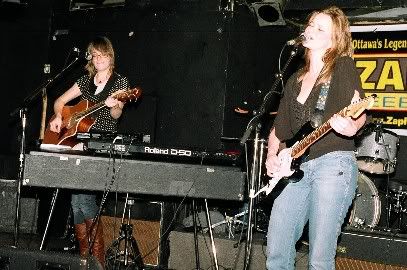 "Aaaaaaaaaaaaaaaaaaaaaaaaaaaaaaaaaaah!"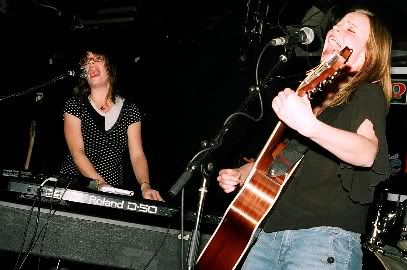 The audience was small, but a number of people did come up to buy a CD, so she obviously made a good impression. Incidentally, more Danes are headed this way, when
The Figurines
(who I recommend),
The Blue Van
and
Kira and the Kindred Spirit
visit next Monday's Zaphod's showcase.