Les Allumettes played a short set where they showed off a lineup change. Andy Cant of Slow Parker and New Autumn Line fame replaced Heather "Hell" Osborne on drums while she is in Missouri on some sorghum-related matter; Jordanna played guitar since Christina is busy crafting things. The lineup change has shifted the sound since Andy has considerable technique compared to Heather's Meg White-style and Jordanna plays more chords compared to Christina's clean single-note lines (unless my memory is deceiving me, which it often does).
Natasha on bass.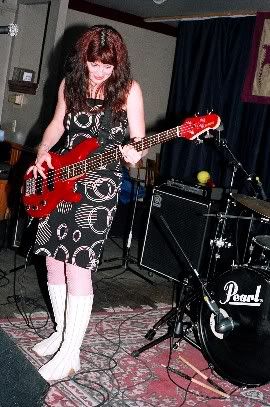 Jordanna sings (with a handy lyric cheat-sheet).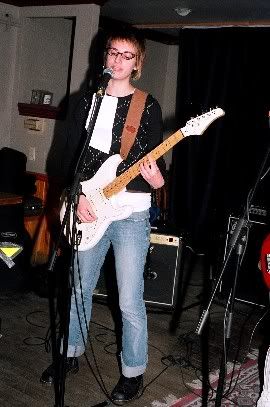 Andy really
zones out
when he drums.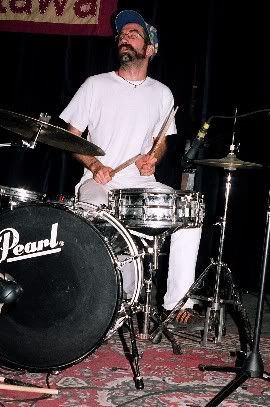 I could have sworn I had a better picture of Nina.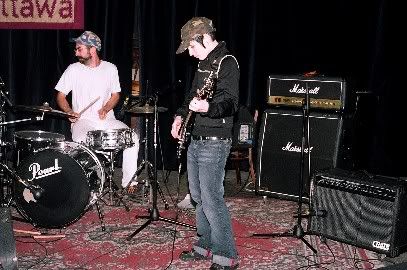 Jordanna takes over on bass while Natasha shakes.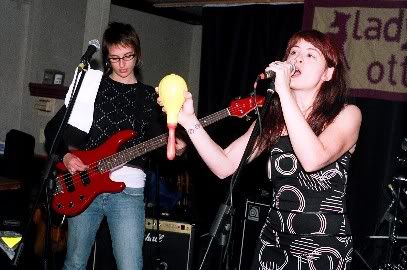 Lineup changes aside, it's still entertaining lo-fi pop a la Yo La Tengo and Tall Dwarves.
Show reminder: I can't think of anything tonight, so I'll just remind you all that the River City Tanlines of Memphis play tomorrow night at The Dominion.