I had planned to post on The Immortal Lee County Killers' excellent Monday show, but while I have enough photos to round out a post, the fact is there's a bunch of stuff still at the photo lab so you're just going to have to wait. As a teaser, here's a picture of Chetley "Cheetah" Weise in mid-blues-karate-kick jump.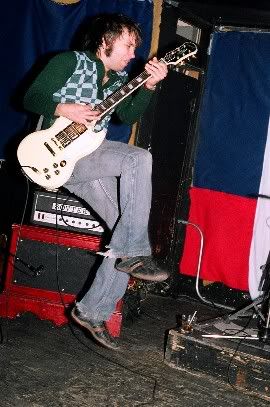 Also at the developers: Hot Glads action, hot Fleshtones action, and even hot girl-on-girl action! And now on to the real business at hand:
CKCU
's 30th anniversary.
The Black Keys
, soul-shouter
Nathaniel Mayer
, local garage crunchers
Weapons of Mass Seduction
and back porch magi
The Golden Famile
will perform at Barrymore's in celebration of this momentous event (on Saturday, rock-pop mavericks
Rhume
, country rockers
The John Henrys
and sophisticated stars of surf and screen
The Empiricals
will also celebrate said anniversary). Happy birthday, CKCU!
Show reminder: Didn't buy a ticket to CKCU's 30th? Fortunately, there are other gigs about town ... I've seen some listings declare that Shalabi Effect and Daiquiri are playing Avant Garde Bar next week(?), but the weight of opinion- including the AvGab's own website - seems to lean toward a Nov. 18 date. That's tonight!