Last time The Demolition Doll Rods rolled through town,
Bloodshot Bill
was there to help kick things off (you can see my pictures of said show at the Birdman Sound site). When The Rods announced their intention to play The Dom, there was some chatter on punkottawa.com message boards about how nice it would be if Bill opened the show. As things turned out, Bill was indeed there - no surprise really, given he's pals with that crowd - fresh from a trip to the U.S. , as he often is.
It was Halloween so he played some seasonal tunes, including Deja Voodoo's
Monsters in My Garage
(he recently did a show with Gerard von Herk in NYC, incidentally) and a "sort of appropriate"
Boo-Hoo
. He also played a request for
Muleskinner Blues
. As always, he had the real deal rockabilly mojo in spades; he just stomped on the floor to keep the beat and played through Margaret Doll Rod's amplifier this time, and it was all pretty sweet.
Bill and a ghostly presence ...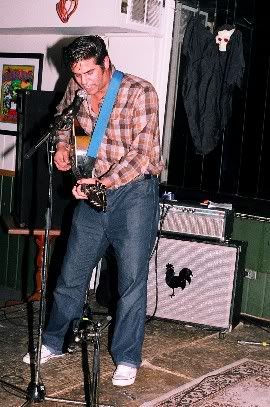 Bill up close.
Bloodshot in motion!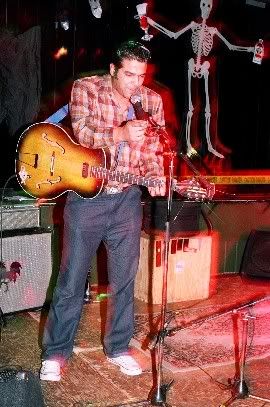 He had a new seven-inch with him of
Lonely Nights
, backed with
Kissin' My Love
and
Hobo
which is also a fine thing.