I don't get to see as many bands as I'd like these days so even the cruddy weather last night didn't stop me from slipping and sliding my way over to Zaphod Beeblebrox to watch a triple bill presented by i(heart)music and headed by The Rural Alberta Advantage. About two dozen people turned out - not bad considering the spirit-dampening and potentially bone-breaking freezing rain.
The first band on the bill was
Kings of Lowertown
, making their live debut. Simon Borer of Entire Cities described them as sounding like Dead Milkmen crossed with Bruce Springsteen. I can see how their rootsy side inspires the comparison with The Boss. Personally they made me think more of folks like Steve Wynn and Sean O'Brian, but with less jangle. I could see them on a bill with The Allrights or BushPilots with ease.
At first I was worried that Entire Cities would put paid to
my brilliant theory
about bands with City in their name. Then I realized that since it's "Cities" and not City it still stands. They blend a country-and-bluegrass influence with some noisy indie rockist tendencies. Like a few other Toronto bands, they seem to have a floating membership. This time around guitarist-vocalist Borer was accompanied by Josh Lyon on accordion (sustaining some teasing for abandoning his tots in Kingston to do so), banjo-playing cutie Tamara Lindeman (like Simon, also of the exceedingly swell
Weather Station
), Adorable bassist Brendan Howlett and Paul Banwatt doing double duty on drums. They put on an active show, which made me wish I had my camera back.
On to The Rural Alberta Advantage, who were as swell as they were at their Club SAW gig last year. Their set was kind of similar. Like Entire Cities, they have a new CD out - that's why they're on tour together (East Coast dates loom). All in all, a swell way to spend $5. As an added bonus, I didn't end up on my butt either going to or returning from the show.
Things should be a bit less treacherous tonight - and they'll cost even less than $5 since
Someday This Will All Have To Be Fixed
,
That's The Spirit
,
Arms and Sleepers
and
Michael Munnik
are performing for free at Zaphod's. Here's a photo of That's The Spirit, a.k.a. The Polytones' Ben Wilson, performing at Zaphod's in April 2006.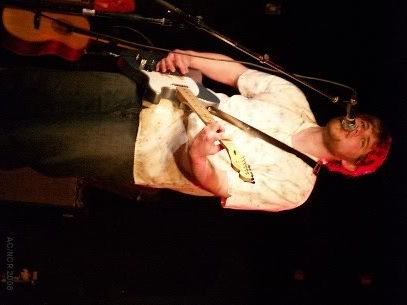 As for later in the week: On Tuesday you can see
Patrick Dolan
, formerly of In Search of '75, and Andrea Warren at the Avant-Garde Bar; Wednesday
The Raynes
will be dropping into Zaphod Beeblebrox alongside
My Tiny Circus
and Amanda Bon. Thursday a vast horde - including
Tanya Janca
,
Dog Park Radio
, Riishi & Tim,
Bruce Boris
and
Solomon Moon
- descend on The Montgomery Legion on Kent St.