Here comes the weekend! The long weekend if you get Family Day off. The midweek doldrums are soundly broken on Friday with a host of shows.
Brendan Flynn and the Terrible Liars
and
Adam Puddington Band
are performing at Babylon - a similar lineup graced the stage back in February 2007 when I snapped the pic of Brendan (and Matthew from Acres) below.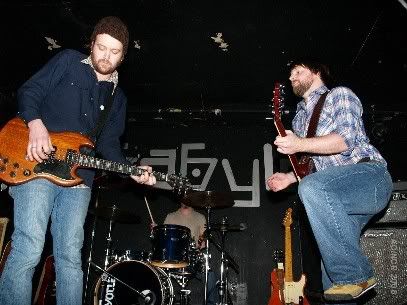 Of course there's lots of other stuff to see:
Captain Foxy
and
Enemies and Allies
play End Hits;
Dry River Caravan
and
Marie-Josee Houle
perform at the Avant Garde Bar; Zaphod's hosts much rock and rolling with
Kid Sentiment
and
Four 'N' Giv'r
.
On Saturday
Nina Nastasia
makes her return to Ottawa - that's her below playing the Birdman Stage at the 2003 Bluesfest.
Male Nurse
opens the show at Mavericks.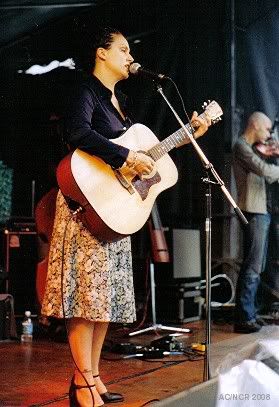 She's not the only thing happening at Mavericks -
Cancer Bats
,
Boar
and
Inire
will be performing there earlier in the day. Upstairs at Cafe DeKcuf you can catch
HandHeld
,
Farler's Fury
,
The Valveenus
,
Snatchback
and Beef Blood. Zaphod's features
Two Hours Traffic
,
Trevor James & The Perfect Gentlemen
and
My Psycho Ex
. Lastly, over at Club SAW you can thrill to the sounds of
Pysiedius
,
We Were the Fires of Rome
,
There Were Thousands
,
Today I Caught the Plague
and
Addaboe
- I guess the bands with long names balance out the ones with short 'uns. Speaking of Club SAW, back in July I saw a very nice show with
The Rural Alberta Advantage
. - captured below, of course. Yes, that is one-half of Woodhands in the middle. RAA are back in town on Sunday, this time at Zaphod's with
Entire Cities
and
Kings Of Lowertown
.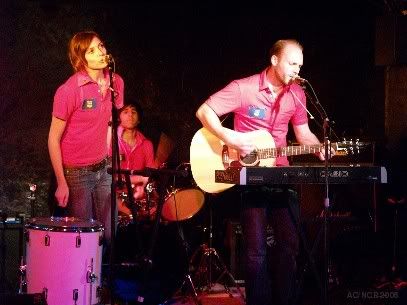 Down in End Hits' basement you can see
The Sleep
,
Return to Strength
and
Dead Winter
. In late-breaking news,
The Coggs
,
Bear Claps
and
Tonk & The Honkys
play the Mercury Lounge.