It's a Thursday, and that means rock'n'roll and pizza at Babylon.
The Mighty Eagle Band
- depicted below at Zaphod's in May 2007 - will be shaking the joint to its very foundation in conjunction with
The Holy Cobras
.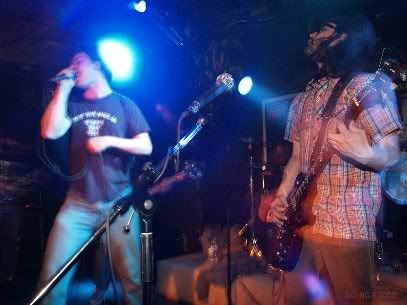 They have another Babylon nightclub show lined up Feb. 9 with The Jesus Mullet (which I believe is the first time the two bands have shared the stage, strangely enough). Also on Thursday you can observe
Doll
at the Algonquin College watering hole The Observatory along with Toronto psychobillies
The Creepshow
.
On Friday you can sample punk rock aplenty over at Cafe DeKcuf with
International Maniac Institute
,
Fleeba
,
Contrabandit
, the hotly tipped
Critical Convictions
and Head Down. You can also catch
Econoline Crush
and
A Plot Against Me
at Zaphod Beeblebrox. EC have reformed and a new album will officially emerge in a few days.
The Brothers Chaffey
are playing at The Black Sheep Inn with
John Allaire
.
Shawn Tavenier and Silver Creek
release their new CD with
Amos The Transparent
and
Tympanic
at Barrymore's.