Folks of the rock'n'rollin' persuasion will want to head over to the Elmdale House (on Wellington St. at Pinhey) to see Bloodshot Bill. That's him below sweating up a storm while opening for The Sights at the Dominion Tavern in June 2004. He has a new LP,
All Messed Up
out, and will be celebrating its release along with
Full Blast
, a split with the most banned band in the land,
The Firejacks
.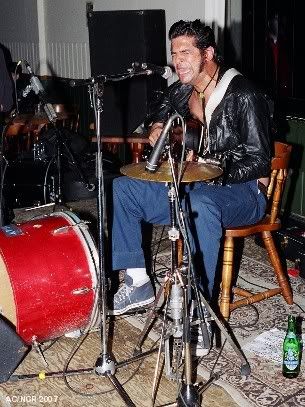 In other greasy news, Evil Farm Children are playing a late-notice show at Irene's.
Ron Hawkins
(formerly of Lowest Of The Low) and
Mile Over Mecca
play Zaphod's on the same day. On Sunday you can see
The Queers
,
Riptides
and
The Creeps
at Mavericks or go to Pub 101 - a venue on York St. I've walked by a bunch of times but never entered - and see
Assembleme
,
Fire Heats Water
,
Killing for Friday
.